Asheville is a 3.5 hour trip from Atlanta. We've visited 3 times, and have never stayed longer than 2 nights. When we go, we go for the beer and food…and after 3 days of that, we are usually ready to go home. We have never been to the Biltmore…but hopefully one day!
Where to Stay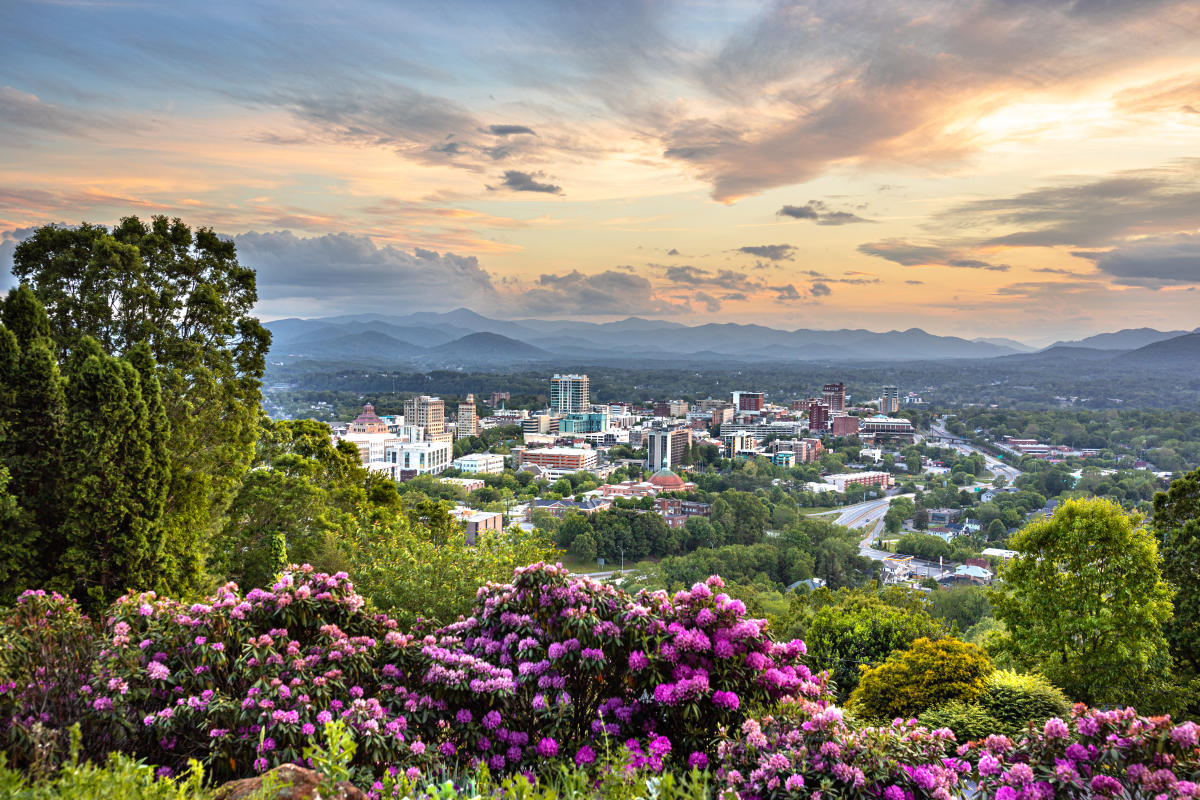 If you are visiting Asheville for the breweries, the closer you are to downtown center, the better. We've stayed somewhere different each time, but my favorite place was the Aloft. The Aloft is right in the middle of everything.
We've also stayed at the Hilton Garden Inn and Renaissance Asheville Downtown (we like to use points). These hotels are good options too, but about a 10 minute walk to downtown center. If you can get a reservation at the Aloft, I would definitely try to stay there!
The AC Hotel by Marriott is also in a pretty good location, but I have never stayed there.
Breweries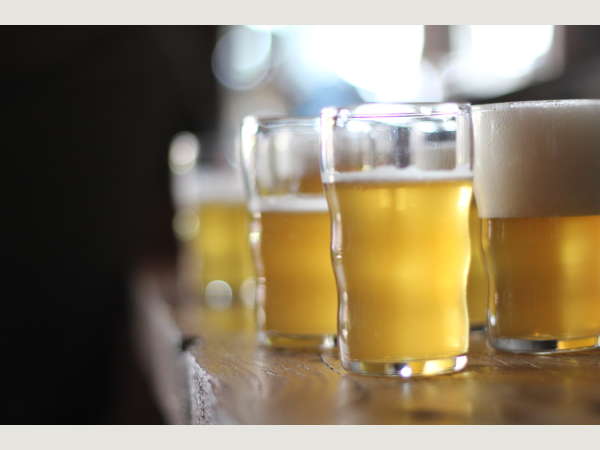 If you google "Asheville Breweries" you will get a ton of options. I have never been to a bad one….but here are some of my favorites.
The Funkatorium – This is my favorite Asheville Brewery hands down, but I also really love sour beers. The Funkatorium is the "East Coast's first sour beer dedicated taproom". We always do a tasting, then raid their bottle shop for beer to take home with us. They also serve food.
What we drank: Barrel Aged Sour Flight, Limited Release Flight, and a Watermelon Dragonfruit Burst sample
What we ate: On our last visit we shared an Everything Bagel Pretzel. Beware of the spicy mustard they offer up though. I am a spicy lover….and this one was hard for me.
Wicked Weed Brew Pub – Wicked Weed Brewpub is next door to the Aloft, so great for a night cap! They have a decent food menu too. We did not eat here the last time, but we have definitely stopped there for mid-day snacks in the past. They also serve the some of the sours from the Funkatorium and sell them in their bottle shop too.
Bhramari Brewing Company – I really loved this brewery's setup and beer selection. They have their process down and were very organized in handling Covid restrictions . You are indoors a minimal amount of time. You place your order, take a number, and they deliver your beers to you. They have the cutest outdoor seating area where you can enjoy your beer once it arrives. Bhramari also serves food.
What we ate: Jonathan had the Patatas Verde and I snacked on the boiled peanuts.
What I drank: Lavish Farewell (so good), Above The Clouds Dreamsicle Cheesecake Sour Stout DSSOLVR Collab, and I bought a 6 pack of Bhong Water w/ Blue Raspberry & Meyer Lemon Hard seltzer to take home with me
Burial Beer Co. – They have a good outdoors setup, and their inside is pretty big from what I can remember (we stayed outdoors during our last trip). They also serve food, but we have never eaten there.
What I drank: Standing In A Shaft of Light (sour)
New Belgium – I was sad we didn't' get to go here during our last visit, but they are not open Tues-Weds (which were the the days we were there). I didn't think I would love this brewery as much as I did since I can buy their beer at my local grocery store, but their menu is so extensive and full of options they don't bottle and sell in stores. They also have a large front lawn that is perfect for cartwheels.
Twin Leaf – This is the first place we went last trip because the Funkatorium line was too long. They have a couple sour and seltzer options that I enjoyed. If you are at the Funkatorium, just walk across the street and check this place out too!
Green Man – Green Man has 2 locations like right next to each other. We always just go to the original/older location referred to as "Dirty Jacks". The Green Mansion is the newer location.
What I drank: Tart Berry sour (I really like sours)
Hi-Wire Brewing – Another good spot we have visited a couple times. No food options, but they have cute t-shirts to make up for it 🙂
What I drank: Sour Smoothie Beer (they switch up the flavors)
Urban Orchard Cider Co. – And if you get sick of beer, check out this cidery to switch things up.
What I drank: Sidra Del Diablo (a yummy spicy cider)
There are tons of great brewery options. If I left off your favorite, don't be mad! Here are a couple options I wanted to checkout, but was not able to make it to due to holiday hours. DSSOLVR and Archetype Brewing
This website has a good listing of the breweries by location.
Where to Eat
Casual Options:
***side note: I am vegetarian, my husband is not….hence why most of the food selections are vegetarian/vegan.
Blue Dream Curry House – We ate here during our last visit for lunch. It was an unexpectedly busy week in Asheville and many restaurants were out of food items, including Blue Dream who was out of Naan. If you look at their menu, there are lots of items with Naan. We still enjoyed our meal anyways.
What we ate: Lettuce wraps with Tempeh, Tempeh Naan Taco (minus the Naan), Peanut Noodle Salad, Tom Kha Soup
Rosetta's Kitchen & The Buchi Bar – This place has been on my list to visit since 2016 and finally made it there for lunch during out trip. Everything is vegan, vegan soul food to be exact….and they have a kombucha bar. They were out of several menu items due to the unexpectedly busy week, but everything we did eat was delicious.
What we ate: Tempalo Wings and Tempeh Rueban. (We split both of these and it was more than enough)
What we drank: Flight of all 6 kombucha flavors, Calm Before the Storm Kombucha Cocktail
Laughing Seed Cafe – A yummy vegetarian restaurant with so many options. We ate here during our 2017 visit, and I think I either got the reuben or buffalo tacos (but who knows).
Early Girl Eatery – We have never actually eaten here, though we have tried several times. They usually have a wait, so go early. It is supposedly really good!
White Duck Taco – We enjoyed a casual lunch here in 2017. Pretty simple menu with a variety of tacos to choose from. I don't remember my exact order….but I'm pretty sure I had at least one Tofu Taco.
Farm Burger – We have these all over Atlanta, so we have never eaten at this location. They do have vegan options. Farm Burger used to setup at our local Farmers Market and my husband would get the Sunny Side Burger almost every weekend (so I am guessing the burgers are pretty good).
Biscuit Head – Another place that is always on our list, but have yet to eat at. We tried to go in 2017, and the line was way to long for my low patience level. It's always on the "top restaurants" list…..so if you like biscuits go early or be patient and wait in line. They have vegan / vegetarian gravy and biscuit options.
Ben's Tuneup – A fun spot we stopped in for a late lunch on our first visit to Asheville in 2016. It looks like it would be fun late night too. They have a beer garden and sake brewery too.
Chai Pani – A good option for dinner or lunch. We have one in Decatur (like 20 minutes from our Atlanta home) and it is so ridiculously good. They serve Indian street food. I have not visited the Asheville location, but I am assuming it is equally as delicious. Some of my favorites include: Corn Behl, Bhel Puri, Kale Pakoras, Saag Paneer Thalis
Finer Dinning Options:
Rhubarb – We ate here during our last visit (December 2021). It was very yummy and in a great location. It is always on the "top restaurant" lists as well.
What I ate: Field Pea Falafel, Goat Cheese Burrata, Collard Salad
Cúrate – A popular Tapas Restaurant. We ate here in 2017 after a very long day at the breweries. I can't remember our exact order, but I know everything we ate was delicious.
The Market Place – We had dinner here in 2017. I can't tell you what I ate (maybe the risotto), but I remember it being pretty good.
Sweets:
Sunshine Sammies – Cookie ice cream sandwiches, what more do I need to say. These are always a really nice treat after a couple breweries.
French Broad Chocolate Lounge – We just stopped in and grabbed a couple yummy chocolates to go.