We recently took a 3 day family trip to Nashville and had so much fun. This was our 4th visit since 2015; twice with just my husband and twice with my husband and daughter. I will share some of the things we did this trip, as well as fun stuff we have done in the past.
Where we stayed:
This last trip we stayed 2 nights at the Gaylord Opryland and 1 night at the Renaissance Nashville Downtown.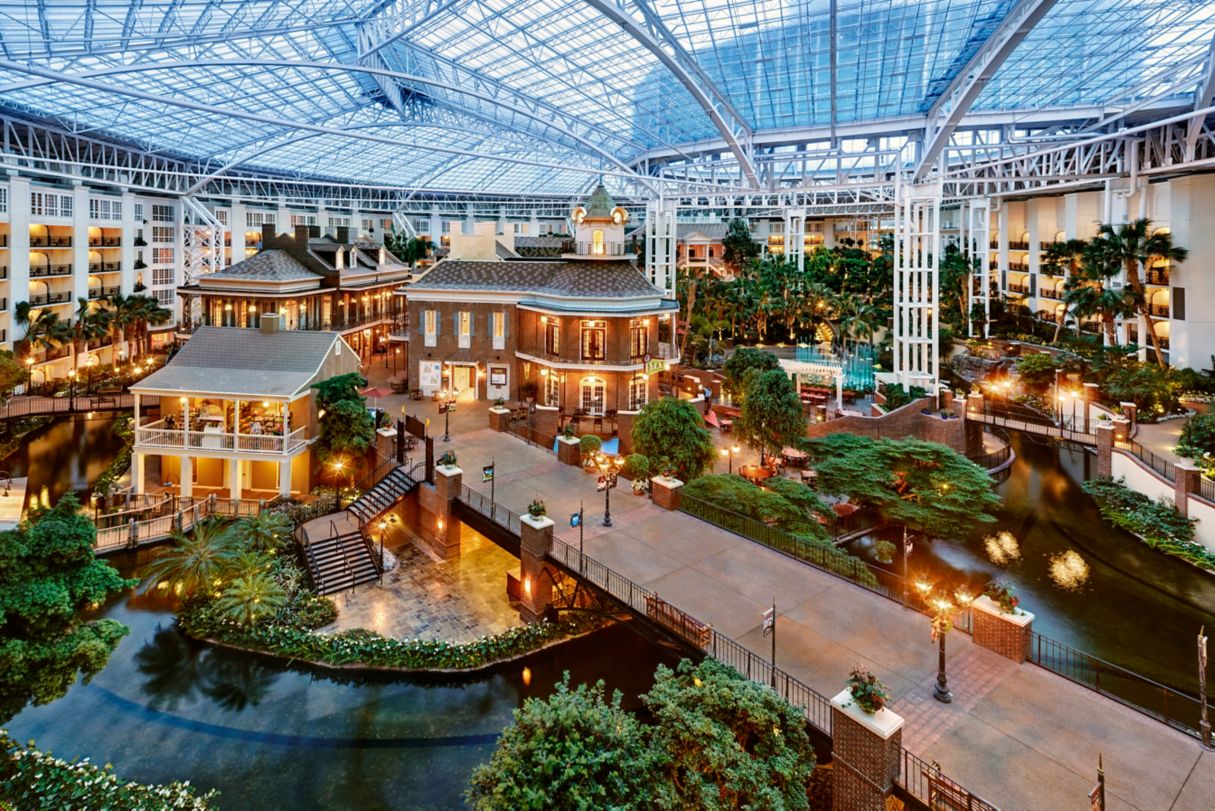 The Gaylord Opryland Convention Center is perfect if you are visiting Nashville with kids. It is almost a vacation in itself. The hotel has a really nice water park (Sounds Waves), several restaurants and shops onsite, 2 game rooms, a boat that runs through the hotel atrium, and its just a ridiculously gorgeous hotel. The hotel is a 15 minute drive from downtown Nashville, so I do not recommend it if you plan on spending a good bit of time downtown. It was perfect for us, as we spent our first day (prior to checking in) downtown, our 2nd day we spent the entire day at the Gaylord at the water park, then we got a different hotel for our 3rd day downtown.
We stayed at the Renaissance our 3rd night in town. I actually thought I had the Courtyard Marriott booked, and realized on Saturday I had made a big mistake and booked it for the wrong night. Oops! Luckily the Renaissance had availability for Saturday night, and all was good. The Renaissance hotel is one block off of Broadway and a little too close to the craziness for me. If you want to be in the middle of it all, this hotel is perfect.
In the past we have stayed in the Gulch at the Fairfield Inn, and I prefer that location over downtown. There is so much to do in the Gulch, and it's a little more low key.
Things to Do:
*Bowling at Pinewood Social – On our last trip, this was our first stop for bowling and lunch. They have a really good food menu, fun cocktails, and old school bowling lanes. They also have bocce ball courts outside, and a swimming pool for guests 21+. We booked a bowling lane for 90 minutes, and was able to enjoy lunch while we bowled. I enjoyed the Grain bowl and a House made Shandy. Pinewood has a kids menu too.
I have also been to Pinewood late night, which is better for adults only.
*Get a Hat at Rustler Hat Co – After Pinewood, our next stop was Rustler Hat Co where I designed my own hat! This was a dream come true for this hat loving gal. They do take walk-ins, but I recommend making a reservation online as they do get very busy. I went on Thursday, since Saturday was completely booked up when I checked about 5 days in advance. Rustler has so many options to customize you hat, and it is such a fun experience. The hats aren't cheap though, so if you aren't super into hats, this may not be for you.
*Spend the day at SoundWaves Water Park – We spent pretty much our entire Friday at SoundWaves during our last visit. I do recommend visiting on a week day if possible, since it will be less busy. Staying at the Gaylord and booking the Soundwaves package is the only way to guarantee you can visit the water park, so we booked this room type for Friday. (Tip: If you don't want to visit the water park every day of your stay, make separate reservations for the same room type and have the hotel link them). The water park is really nice, has an indoor area and outdoor area, and is great for kids. We spent the day going down the various water slides, wading in the wave pool, and enjoying a couple frozen drinks. There are food options available at the park, so we did not have to leave for lunch. They offer cabana rentals at the park, but as long as you get there early and snag a seat, they really aren't needed.
*Visit the Nashville Farmers Market – We really like Farmers Markets, so we decided to stop by here on Saturday. The market has tons of vendors, and a market house with tons of restaurants and shops. I had vegan tacos from Succulent Vegan Tacos and Jonathan and Sienna shared pizza from Bella Nashville. At the Farmers Market area we got 3 cookies from Pink Door Cookies to enjoy….and they were absurdly delicious.
*Visit Local Breweries – One of our favorite things to do is visit local breweries. Our favorite in Nashville is Southern Grist Brewing. They have a new taproom since our last visit in 2019, and have added a dining option that looks super yummy. Other notable breweries include Monday Night (started here in Atlanta), Jackalope Brewing, Tennessee Brew Works, Bearded Iris, Barrique Brewing. There are tons of other brewery options in Nashville, these are ones we have had the chance to visit and enjoy.
*Dancing at the Country Bars – You can't go to Nashville without stopping by one or two or three of the country bars on Broadway. It can get pretty packed, but can be a lot of fun. Some of the places we have visited include Wild Horse Saloon (kid friendly), Tootsies, The Stage, Honky Tonk Central
*Burlesque Show at Skulls Rainbow Room – Shows are Friday and Saturday night at 11pm, which is past my bedtime, but we did attend a show during our adult trip in 2018. It is a $20 cover. Skulls Rainbow Room has a dining area, so you can plan a later dinner to ensure you have a table…or find a random spot in the corner like we had to. I am pretty sure I got sleepy and we went home home before the show was over. Story of my life 🙂
*Drag Brunch at Suzy Wong's House of Yum – We attended this for a Saturday brunch during our adults only trip in 2018, but I did see kids there enjoying the show too. When we went, you could order off a menu, but it now looks to be an all you can eat type situation. We tried to get reservations during our last trip and they were booked up, so book early. This was one of my favorite things we did in 2018. The food was yummy, they had this crazy fish bowl drinks, and the Queens were so fabulous and fun.
*Insta worthy pics at the What Lifts Your Mural – There are so many murals in Nashville, but this is the one people line up down the street to get their photo with. During our last trip, we stopped by at 9am and had the mural all to ourselves. The artist, Kelsey Montague, has murals all over the US (including a few in my home state of GA)
*Sweet Treats at Goo Goo Cluster Shop – The Goo Goo Cluster shop is right off Broadway, so stop in for a sweet treat. This visit they had a new experience where you could design your own Goo Goo Cluster. We let Sienna design her perfect sweet treat concoction, and it did not disappoint. It was probably the most expensive piece of candy I've ever eaten…but I definitely recommend it anyways.
*Visit Blue Bird Cafe – Ok, I must admit I have never done this, but we did do a drive by. If you were a fan of the show Nashville, then you know this place was featured on the show frequently. Now don't expect to see Rayna James there performing (RIP), but I hear you can catch some pretty good shows. I would get tickets in advance if this is something you are interested in doing.
Place to Eat:
*Pharmacy – A burger spot in East Nashville. They have a really awesome outdoor beer garden (that we didn't get to enjoy last trip because of the rain). We have eaten here almost every visit. Last trip, Sienna and I shared the vegan burger with Sweet Potato Fries. There is no kids menu.
*Gray & Dudley – Not only is the food yummy, but they have a really amazing Art Studio (3 floors of art). After dinner, we were able to walk around and check out some of the art pieces. For dinner I enjoyed the Falafel Skillet Bread. The restaurant offers a kids menu too.
*Nashville Farmers Market – I talked about this above in the "Things to Do". They have a large dining area with tons of restaurant stalls. It makes a great lunch spot!
*Emmy Squared – Emmy Squared is the most ridiculously good Detroit Style Pizza. We use to eat here every visit to Nashville, but within the last year we got one in Atlanta (yay!!!). My favorite Pizza is "The Emmy". The Nashville location we visit is in the Gulch, one of my favorite areas of the city. Eat here, then go get your pic at the Wings Mural (What Lifts You)
*Rolf & Daughters – If you are looking for a nice dinner out option, this place is a great! We ate here on one of our Adult only trips. I can not tell you what I ate, but I know it was good!
*Etch – Another delicious option if you are looking for a nice dinner out. It is just a couple blocks from Broadway, so not quite as crazy, but a good option for a pre-dinner before going out dancing at the country bars.
*Von Elrods Beer Garden and Sausage House – This is a fun spot we enjoyed lunch at. They have lots of beer options, and are known for their sausages. Being a vegetarian, I cannot tell you about the sausages…..but Jonathan enjoyed them.
*Catbird Seat – If you are looking to go all out and splurge one night for dinner, this is the spot. We went here for my birthday one year. Reservations fill up fast, and you can only book up to 4 weeks in advance. This is a pre fix menu, but you can let the chef know if you have dietary restrictions (I am a vegetarian and loved it). There are maybe 10-15 seats in the restaurant, and you all sit around a circular bar and the kitchen is in the middle (so you get to watch them prepare the food and interact with them while they are cooking). There is an option to add drink pairings, which we did. This was was my first "OMG….did we really just spend that much" meal….but it was worth it. It is such an experience, and I would definitely do it again!
*Wanna Spoon – Wanna Spoon is a cute cereal bar spot in the 12 South neighborhood (which by the way is a really cute area with tons of restaurant and shopping options). We stopped here on our way out of Nashville, and Sienna enjoyed a cookie crisp/trix mixture topped with sprinkles. They also have cereal milkshakes, which we of course had to try even though is was 10am. This place is really cute with a big back yard with games and lots of photo ops, as well as front yard area for hanging too.
Where to Drink
*Local Breweries- I talked about the Nashville Breweries above in the things to do section. Here are some of the ones I have enjoyed. Southern Grist Brewing, Monday Night (started here in Atlanta), Jackalope Brewing, Tennessee Brew Works, Bearded Iris, Barrique Brewing.
*Corsair Brewstillery Taproom & Tasting Room – Like a brewery, but the hard stuff 🙂 We stopped here during one of adult only trips. If you are tired of the breweries (or just don't like beer), this is a good way to switch things up! The "I Believe in Nashville" mural is a 3 minute walk away, so grab a cocktail then take advantage of the photo op close by.
*The Patterson House – This is a speakeasy type cocktail lounge. We visited here back in the day and it was super popular and busy, but we were able to get on the list and eventually get seated. This was back when speakeasys were new and trendy, so I am not sure if it is still as busy, but worth the try. I remember the cocktails being pretty good.
*Pinewood Social – I talked bout Pinewood above in the "Things to do" section. Not only is this fun for bowling, but is great late night for cocktails too.
*Whiskey Kitchen – This looks like a yummy place for dinner too, but we have only gone late night for after dinner drinks. They have lots and lots of whiskey options, which is not my thing….but they have other cocktails for us non whiskey lovers too.
*Black Rabbit – This spot is downtown, but off of Broadway where it is not as insane. We stopped here for after dinner drinks one visit. They have a food menu too.
*The Green House – Absinth Bar – This is an Absinth Bar in the Germantown neighborhood. We stopped here to try Absinth (which is an experience in itself) after dinner one evening. We ate at Rolf & Daughters before hand and it is about an 8 minute walk…if you are trying to plan out your evening 🙂
*Country Bars – I talked about these above too. Bring cash, and you can grab a cheap-o beer instead of waiting in line at the bar. Some popular options include Wild Horse Saloon , Tootsies, The Stage, Honky Tonk Central
Alright….that's all I got! Make sure to use google for more ideas, because they know more than I do 😉